Custom manufacturing of interior rear view mirrors for coaches
The interior mirrors manufactured by INDUSTRI are designed to be installed in such a way that the driver has a complete view of everything going on inside the bus.
The interior rear view mirror is mounted to the body of the bus or minibus by means of an arm with a plate at one end which is fixed with adhesive to another plate of similar measurements. The latter is fixed in place with 4 countersunk screws so that, in the event of impact, the whole mirror housing, including the arm, would come away from the plate fixed to the bodywork.
Oval interior rear view mirrors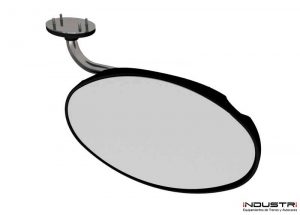 Our oval rear view mirrors have a main body or housing manufactured in Nylon 6, with a perfectly shaped interior cavity to hold the mirror. A mirror support is incorporated to the main housing with 4 countersunk screws and the mirror is fixed to said support with double-sided adhesive.
An arm support is fixed to the back of the main housing of the interior rear view mirror using an Allen wrench; this support acts as a hinge when adjusting the mirror to either side and also secures the arm in place.
Rectangular interior rear view mirrors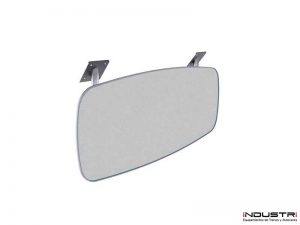 At INDUSTRI we are specialists in the design, prototyping and manufacture of spare parts and components for coaches, buses and minibuses.
This is the case of our rectangular mirrors, designed for mounting inside the bus. These mirrors are rectangular in shape and are designed and manufactured according to the customer's measurements. They come fitted with a rear mounting arm. The mirror is fixed to a steel plate with a rubber surround to give it a pleasant appearance.
Round interior rear view mirrors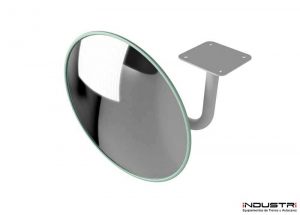 Our engineers work in close collaboration with our customers to design spare parts and bus components adapted to their technical needs and requirements. This is the case of the round interior rear view mirrors for buses.
These rear view mirrors are manufactured to the diameter requested by the customer to suit their vehicle dimensions. They have metal mounting arms on the back to secure them in place according to the desired design.
Other customised rear view mirrors:
We also make other parts to size: